Maternity Photos 
Maternity photos are a  truly special and unique type of photography. Marie Grantham truly believes Pregnancy is such an awesome and beautifully captivating time for a new mommy and her family. A child is literally growing inside of their mother. As their family anxiously awaits to meet their new little one. Though it may not be the easiest time period, it is a time that many mothers reflect on once their little one is born. What better way to reflect than capture it with maternity photos? Freeze that moment of time with Las Vegas Maternity photographer, Marie Grantham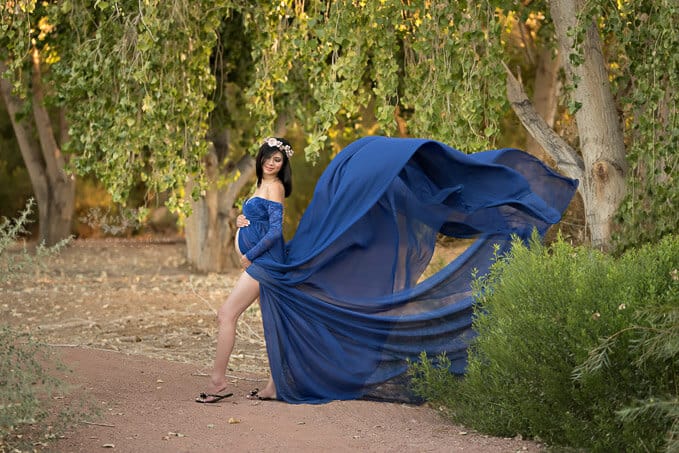 Now, you may be thinking "I can't have a photo shoot looking like this. I'm huge. My feet are swollen. Nothing fits." Relax, mom. Las Vegas Maternity Photographer Marie Grantham Photography is here to help craft your perfect maternity shoot. A maternity shoot can be stress-free and fun, resulting in memories you'll love forever.
Maternity photographer Marie Grantham provides some helpful tips to capture your perfect moment.
Don't stress about what to wear. You want to be comfortable yet look amazing while showing off the baby belly bump. Marie Grantham gets that so she provides custom Flowy maternity gowns that are comfy and absolutely gorgeous to shoot in. If you're feeling a little more daring, go with some tight fitting. You may not feel it, but you're glowing and those curves deserve to be shown off. Maternity photographers suggest avoiding patterns, as they can make the photograph too busy and take the focus off you and the baby bump. Go with solid colors for a classic, elegant look or spice it up with some fun accessories! If you're worried about hair and makeup, do not sweat it ! This maternity photographer has scouted Las Vegas for the best styling team possible. Let your shoot be a moment of pampering and relaxation.
Find the perfect location. If you're most comfortable in studio, then let this Las Vegas maternity photographer plan a studio maternity shoot for you. Want to get lost in a landscape? I have scouted Nevada for some of the best places to shoot. Know of the perfect place? Let me know, and we can make it work. This shoot is all about you and your comfort. Natural light tends to work best with maternity photo shoots. It enhances that pregnancy glow!
Incorporate your loved ones. It doesn't have to be all about you if you do not want it to be. Bring your significant other. Bring your other littles ones. Bring your fur-baby. It's an exciting time for them, too. Let them relish in the moment of your maternity shoot. Some of the best memories can be captured when everyone is included and laughing!
Remember to have fun. This is your opportunity to forget all the craziness that comes with pregnancy and instead celebrate that new little bundle of joy thats on the way. This is a moment for just you and your little one. So, relax and have fun. Be the radiant mother you are! Be intimate. Be comfortable. Be silly. Be you! Marie Grantham Photography wants you to be at ease and comfortable in your own photos. Let your maternity photographer know if you are uncomfortable in and poses or have some poses in mind you have been dreaming about doing!  They will ensure that you are getting the best experience possible!
So, so, so many moms-to-be skip out on their maternity photo shoot. There's no need. It can be an awesome, sweet, perfect experience before your bundle of joy arrives! Once you hit that second trimester, remember to book your appointment with Las Vegas maternity photographer, Marie Grantham. Let's have some fun and create those memories you will cherish forever!
SaveSave
SaveSave
SaveSave
SaveSave
SaveSave
SaveSave
SaveSave