Maternity – Las Vegas Maternity Photographer
As a Las Vegas Maternity photographer, maternity portraits are something that is so close and dear to my heart! As a mother of an awesome little boy named Jaxen as well as a precious little girl named Ashlynn! I am always so excited when I get to photograph a new little baby bump in the making! There is nothing more beautiful than an expecting mama and her baby belly bump! As a Las Vegas Maternity photographer I have heard it so often and It's so very true. " A baby fills a place in your heart you never knew was empty." Little ones truly change your life forever, there is no greater love than a mother and her baby.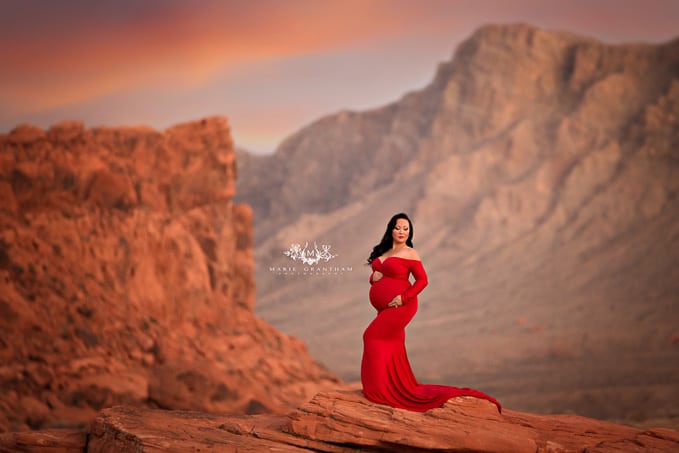 Maternity photographs are moments of a very beautiful and special time in your life. Getting the opportunity to share these moments with your family and baby in the future…is truly Priceless! I can also definitely relate and appreciate how hard it can be for some women to get their maternity portraits taken! As beautiful as pregnancy is, it can also be very uncomfortable for some. At least it was for me!  That's why I try to make it as easy as possible. I do provide specially custom maternity gowns you are more than welcome to use for your session. This can help alleviate the pressure of finding just the right outfit when nothing seems to fit just right! So if you need that little extra planning let me do it all for you. Unless of course you'd like to plan it all out together so it can have your special touch, which is always a good time too! Either way these are you special memories and I can't wait to help create maternity photos in Las Vegas that are absolutely beautiful and timeless for you! To contact me for booking CLICK ON THIS LINK!!! 
Las Vegas Maternity Photography Studio Address:
Marie Grantham Photography (702) 336-1609 mgranthamphoto@yahoo.com
2530 Saint Rose Parkway Suite 110 Henderson, Nv 89074
Studio is located off of Pecos and 215 area 
SaveSave
SaveSave
SaveSave
SaveSave
SaveSave
SaveSave
SaveSave
SaveSave