A professional Las Vegas family photographer knows the ins and outs of photography, from the perfect shot to effective lighting and much more. Most people have a smartphone and almost anyone can shoot photos with a camera; however, adjusting for lighting, editing, and photo effects becomes tricky for non-professionals.
A professional photographer understands that some memories can't be relived and thus are prepared to capture those precious moments as they emerge. When you hire Marie Grantham Photography for your family photos, you will always enjoy great results, as regards to consistency and quality photos. A photography studio makes it possible to work with professional photographers who love what they do. These photographers always work to the satisfaction of their clients because they realize the importance of quality photos and how it's connected to family fun times and fond memories.
A Glimpse Into A Family Photo Shoot
Your family portraits can immortalize the past memories of the family for future generations. Grown-ups will be able to relive fond memories of their childhood through family photo shoots, which will always put a smile on their faces and make them feel inspired.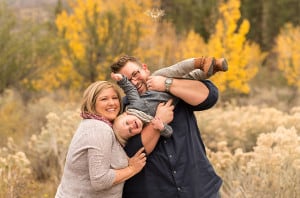 Why Are Family Portraits Important?
Capture growth – Children grow fast and you never know when the next opportunity for a family photo shoot will emerge. So, it's paramount to take a family photo shoot to capture the growth of the children time and again. Moreover, a family make-up can change anytime; loved ones might possibly pass-on, children grow and start their own lives away from home. Family photography takes advantage of the time when all members are together to create a reminder for the family.
Reliving memories – Family photos are a major way to reminisce. Future generations may ask to see family photos and it would be sad if there are few or none to show or share.
Photos are a great way to capture precious moments in our lives. When people are together, photos make it possible to unite those who may not be together again for a long time. In addition, it becomes a fun occasion when people are posing and coming together as friends and family.
How To Prepare For Family Portrait Day
A family photo session can be challenging, not just to the family, but to the photographer as well. Therefore, it is important to know what to expect and prepare ahead of time to get the best out of your family photographs.
Choose clothing carefully – Make sure that you choose your clothing in advance and ensure that your choice is attractive and comfortable. If you want soft and elegant family photos, go for neutral colors with soft, flowing fabrics such as grays, creams, light browns, slate blues, and tans. If you want the spunky and fun side of your family, choose bold accent colors such as bright red or yellow accents.
The family should be well fed and well rested – Be sure not to schedule your family photo session around the bedtime or nap of your kids. If you plan to take meals at the end of the photo session, have a healthy snack before the shoot.
Give yourself enough time to get ready – Have enough time for showering, dressing, and grooming. Don't get rushed or get disorganized as this will result to a rushed and confused photo session
When you decide that you're ready or thinking about having family portraits taken in or around Las Vegas and Henderson Nevada, give me a call at Marie Grantham Photography (702) 336-1609. I can also answer any of your questions about what to expect and any other concerns.